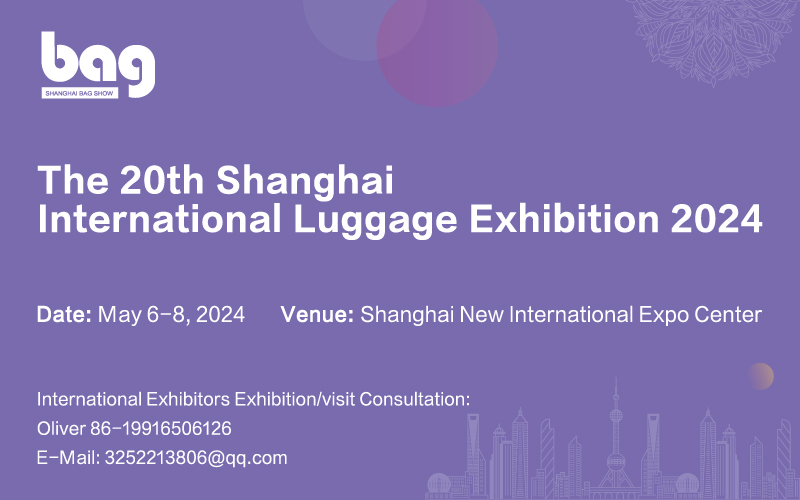 THE 20TH SHANGHAI INTERNATIONAL BAG SHOW
MAY 06-08
SHANGHAI NEW INTERNATIONAL EXPO CENTER
Hosted by:
China Leather Association
China Chamber of Commerce for I/E of
Light Industrial Products & Arts-Crafts
Shanghai Leather Technology Association
Zhejiang Leather Industry Association
Hosted by:
Shanghai Nengbo Exhibition co.,LTD
Mature show and new mode,creating an exhibition of the bag industrial chainand ecosystem
SHOW INTRODUCTION

The Only Professional Bag Show In Asia
As one of the world's three major professional bag &luggage show,The 20th Shanghai international bag show is approved by the Shanghai Business Committee, Hosted by China Leather Association、China Chamber of Commerce for I/E of Light Industrial Products & Arts-Crafts、Shanghai Leather Technology Association、Zhejiang Leather Industry Association and Shanghai Nengbo Exhibition Co.,LTD.It is a platform for connecting the global luggage manufacturers,dealers, brands、agents, traders ,e-commerce, designers, and buyers,etc.The show will focus on bag industry, gathering industry products, technology, information and human resource . It will promote the international and domestic trade through creating a new bag industry chain ecosystem.
SHOW RANGE
Bags,trolley cases,Fashion handbags and other kinds of travelling products
Leather, Synthetic leather, Oxford cloth and other raw materials
Zipper, Lock, Trolley and other parts
Processing technology and equipment, computer-aided design and other mechanical equipment
Internet finance, live broadcast services, cross-border services and other services.
International Brand / Domestic Brand
Designer Brand / Finished product manufacturer
Raw and auxiliary material manufacturer
Intelligent mechanical equipment
Cross-border Service / Industry Internet Platform
There are more than 500 enterprises from all over the world participated in the 19th Shanghai International bag show in 2023, covering an area of 30,000 square meters. During the exhibition, more than 50,000 visitors were attracted, and more than USD277,660,000 are going to sign up.It has become a trustworthy exhibition for exhibitors and visitors, and won a lot of praise and recognition.
Target Audience
◎Brand Agent
◎Import & Export
◎ Department Store/Shopping Mall
◎Wholesaler / retailer
◎E-commerce platform
◎Designer/Fashionistas
◎Government / Industry Association
Purpose Of Visit
◎ Purchase
◎Look for Proper Suppllers
◎Look for New Manufacturing Equipment/Materials
◎ Get to Know the Latest Industrial Trend and Products
◎ Look for Potential Partners
◎Maintain the Relationship with Existing Suppliers
Audience feedback
92% were generally very satisfied with the exhibition
95% think that visiting the Shanghai Bag Show is very important for the company
86% would recommend the Shanghai Bag Show to friends or industry peers
89% said they would visit the Shanghai Bag Show next year
93% think that the quality of exhibitors in this exhibition is very good
Department classification
48.89% Decision-making/management
28.66 Purchasing Department
15.76% Sales/Marketing Department
5.1% Design department
1.5% other
Why participate?
● With a 100% focus on the luggage industry, the event has been successfully held for 15 sessions, making it one of the leading exhibitions in China.
● Ending is only open to professional trade audiences. High quality and stable trade audience make the exhibition efficient and convenient.
● The Chinese luggage market grows rapidly with unlimited potential.
● Many famous brands in the Chinese market, especially those with the highest sales volume, have participated in the exhibition.
● Both the participating brands and products are highly visible and free of charge.
● We work closely with leading edge media and the bag association to understand the market demand.
● The marathon exhibition features a variety of activities to provide the exhibitors with powerful marketing tools.
● Complete collection of all kinds of bag and bag products and famous brands, presenting the latest trends and trends of the industry.
● PM and mass media provide brand promotion and promotion opportunities and effectively increase the exposure rate.
Concurrent activity
1. Opening Ceremony of the 20th Shanghai International Bag Show
2. China International Luggage and bag e-commerce selection conference
3. Quick hand luggage accessories industry business
4. New opportunities for the domestic luggage industry to cross-border 5. The Global Luggage and bag Industry Digital Summit Forum
6.Promotion meeting of domestic and overseas luggage industry park
7.New Generation Brand Theme Exchange Forum
Named cooperation
visit guide, cover, invitation letter, mineral water, hanging rope,visiting certificate,exhibition certificate, handbag,Exhibition gifts,badges,guidebooks, and covers BBS area, rest area, exhibition area and opening banquet area
route:
MTR line 7-Hua Mu Rode station, Exit 1, about 5 minutes by foot to the exhibition hall; MTR line 2-Long Yang Road, and ransfer to the free shuttle bus for about 10 minutes to the exhibition hall ;
The Shanghai New International Expo Center is located in the Pudong development zone adjacent to Century Park, 35km from the Shanghai Pudong International Airport and 32km from the Shanghai Hongqiao International Airport.
As well as:
Our company organizes enterprises to open up foreign markets such as: American luggage exhibition, German luggage exhibition, Italian luggage exhibition, Brazil luggage exhibition, Japan luggage exhibition, Southeast Asia luggage exhibition, clothing exhibition, China Fair, gift exhibition and so on.
E-mail:408308805@qq.com